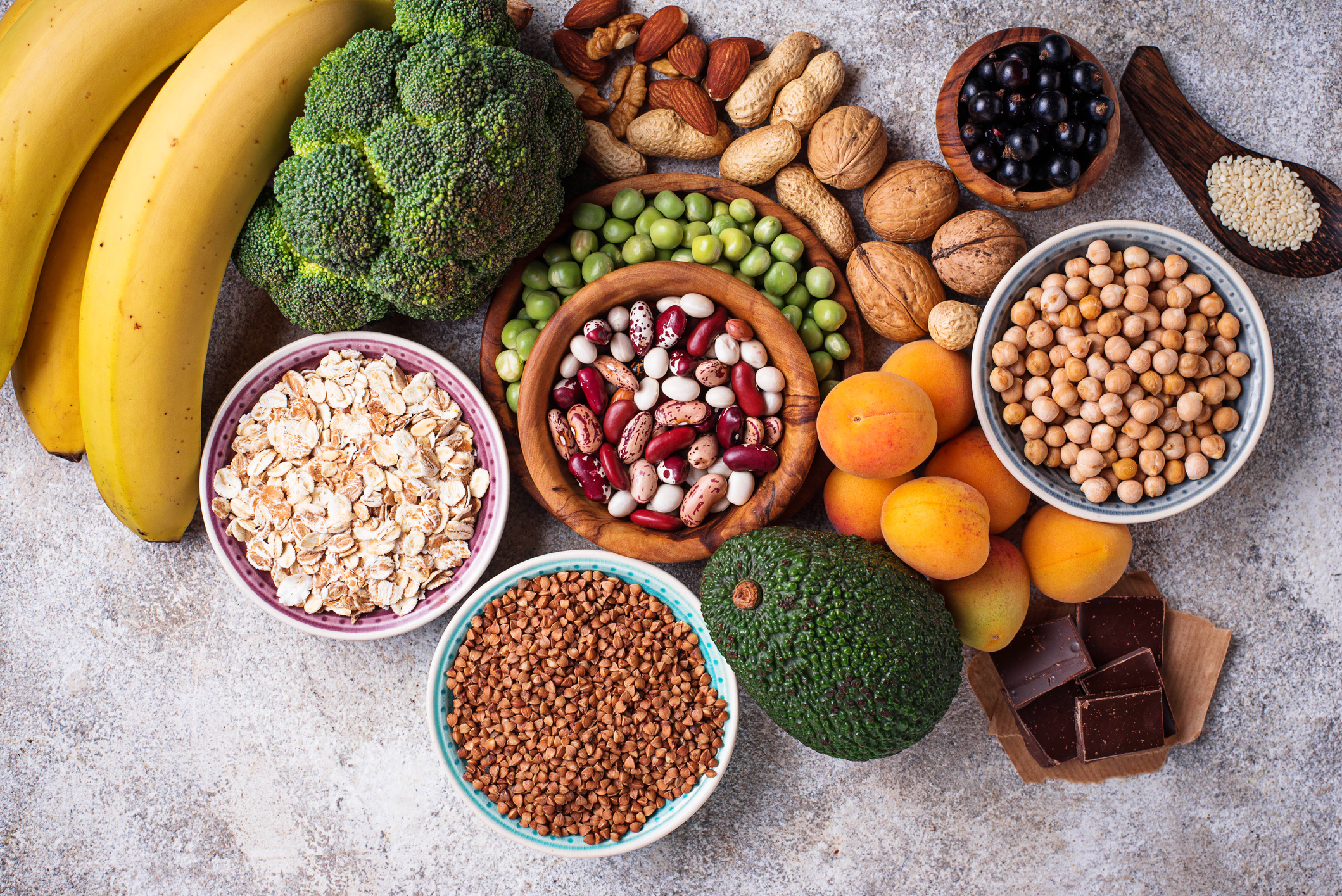 Do you often find yourself struggling with your moods? Maybe you feel irritable, agitated, or anxious throughout the day, and you don't associate these moods with your dietary or lifestyle habits.
We often forget that our brain is an organ, just like our heart, our kidneys, and our stomach. We need to nourish our brain, just like we need to nourish our other mission-critical systems. When you experience difficult moods, you may not be feeding your brain with the right nutrients and the right activities throughout the day. I'm here to fix that!
Ask yourself, "have I fed my brain today?" There are foods and habits that can make you feel calm, more focused, sharper, and more peaceful. Certain foods can improve your mental acuity, memory, and long-term protection against devastating diseases such as dementia and Alzheimer's. The things you eat and the mindful activities you do today won't just affect your current mood. They can also improve the way you feel tomorrow and well into your future.
Are you ready to boost your mood? Let's start by exploring the very real connection between your diet and the proper functioning of your brain. 
Your Diet Can Optimize Your Brain Chemistry
The central nervous system is your body's critical communications and control center. Like a "mission control" for your body, it controls all mental activity, including thought, memory, and learning. 
Using a complex network of receptors, the nervous system detects both external (temperature, light, sound) and internal (blood pressure, pH, glucose levels) input. Your brain makes decisions every second based on this vast interchange of information. 
Your central nervous system turns this information into action. It has the huge responsibility of sending the appropriate signal to the appropriate muscle or gland to produce the proper response to the data received. Your central nervous system has probably saved you several times: It sends the signals telling you to brake the car immediately, regain balance when you feel unsteady, or jump out of harm's way.
As you can imagine, this sophisticated life-saving system needs to be well-fed. The chemicals that transfer signals between the cells of the nervous system can either stimulate or calm the brain. Eating too much or too little of a certain nutrient can have a huge impact on brain chemistry. This has a significant effect on your focus, your cognitive performance, your reaction times, your sleep quality, and your mood. 
Your mood is more important than you might think. Several scientific studies have found that when we are in a positive mood, we are more productive, we do higher-quality work, and we perform physically at a higher level. What we eat plays a large role in our mood – and our mood plays a large role in the functionality of our central nervous system.
Let's talk about the nutrients and chemicals you need to optimize your mood and your central nervous system – and the healthy foods that can elevate your sense of well-being by providing them.
The Nutritional Foundation for a Healthy Brain
Before we dive deep into the food-based chemicals that can work wonders for your mood, let's talk about the fundamental building blocks for a healthy brain. I've explored this topic in-depth in my article about healthy brain foods, but these healthy vitamins and fats are an essential part of your mental health.
Vitamins A and E: Vitamins A and E act as powerful antioxidants throughout the body, and they have been shown to prevent the accumulation of free radicals in the brain. Vitamin E may also protect the brain against the invasion of toxic proteins that contribute to the development of Alzheimer's disease. Sweet potatoes, carrots, apricots, cantaloupes (vitamin A), kale, swiss chard (vitamins A & E), almonds, papayas, and sunflower seeds (vitamin E) are rich sources of these vitamins. 
B vitamins: B vitamins have been shown to slow the rate of brain shrinkage and the onset of Alzheimer's disease in elderly patients. Potatoes, sunflower seeds (B6), lentils, spinach, collard greens, turnip greens, and nonfat plain Greek yogurt (B12) are particularly high in B vitamins. 
Omega-3 fatty acids: Widely known to improve cardiovascular health, omega-3 fatty acids are also closely linked to overall brain health. Some studies have shown that they can also delay the onset of neurological aging, and two omega-3 fatty acids in particular – DHA and EPA – have been linked to reduced levels of depression. DHA and EPA are mostly found in fish and seafood products, such as salmon, mackerel, sardines, and oysters. However, there are also plant-based foods that are fantastic sources of omega-3 fatty acids, including spirulina, seaweed, flax seeds, walnuts, and avocados. 
For a deeper discussion of these essential brain-enhancing foods and nutrients, be sure to read my article on the most powerful brain-boosting foods. Now, it's time to turn our attention to the naturally occurring chemicals in foods that can keep our moods elevated throughout the day.  
Serotonin and Dopamine: The Two Best-Known "Happy Chemicals"
It's safe to say that every one of us could benefit from more happiness and less pain! The right kinds of foods have the ability to provide both of those things. The magic ingredients, so to speak, are serotonin and dopamine: Serotonin provides peace of mind and pain relief, while dopamine creates feelings of pleasure and happiness.
Certain foods promote the creation of these two "happy chemicals" in our brains. However, it's not always an "instant fix," and it's important to know that sometimes we have to implement healthy changes before we feel the full effects of these changes. Focus on taking small steps and doing what you can to get started. Engage the support of your loved ones, and keep track of how you feel in a food journal. The more changes you implement over time, the better you will feel!
The most important part is to stay focused, stay positive, and fight back against those pesky cravings. Unhealthy cravings tend to pop up when we experience shortages of serotonin and dopamine, and we often fall into the trap of unhealthy alternatives to give us a "boost." 
Mood disorders, depression, and physical pain can cause many of us to crave "comfort foods" that are loaded with sugars and saturated fats. These same feelings are leading causes of substance abuse, as many people turn to alcohol, cocaine, and pain-killers to reduce the discomfort they may feel.
When we give into those cravings, things can spiral out of control fast. First, we get down on ourselves, which is just the tip of the iceberg. We may continue the cruel pattern of unhealthy habits, which creates devastating long-term effects on our health and happiness. We become desensitized to healthy sources of serotonin and dopamine, such as raw cacao, bananas, and sweet potatoes. They may not give us the same "boost," as our neural pathways become accustomed to the more intense effects of donuts and drugs. We are forced to retrain our brain and nervous system back to the natural, healthy foods and chemicals that enhance our emotional state.
So, let's focus on the healthy mood-lifting neurotransmitters in our brains: Serotonin and dopamine. 
Serotonin-Promoting Foods: The Role of Tryptophan
Serotonin works to balance out feelings of stress, anxiety, and agitation in the brain. A sense of peacefulness and well-being generally accompanies the release of serotonin. 
Serotonin is manufactured from the food-based amino acid tryptophan. You may know tryptophan as the famous ingredient in turkey that makes us feel relaxed – and peacefully drowsy – after Thanksgiving dinner. However, there are several plant-based foods that are also high in tryptophan, including whole grains, raw cacao, soybeans/edamame, bananas, spirulina, tofu, pumpkin seeds, and almonds.
In addition to mood regulation, serotonin also normalizes appetite and digestion, regulates sleep patterns, and provides pain relief. A balanced diet of raw fruits and vegetables, legumes such as soybeans, and whole grains can provide your mind and body with mood-enhancing levels of tryptophan. It's important to note that diets too low in carbs can cause serotonin depletion and depression.
Whole wheat, whole oats, and brown rice stimulate a steady, prolonged, release of insulin into the bloodstream, which allows more tryptophan to circulate through the bloodstream and into the brain. As a result, serotonin production increases, making serotonin depletion less likely, and improving overall mood. 
Raw cacao makes tryptophan more available in the body, which helps the brain make serotonin. Choose raw beans, nibs, or powder to enjoy cacao in its purest state. Save the dark chocolate for special occasions. Skip the milk chocolate altogether!
Be aware of allergies! Researchers have discovered that many people are sensitive to wheat, dairy, chocolate, and soy, and these allergies are behind many of the disorders associated with the brain. These foods can cause an allergic immune system reaction, which results in inflammation of the brain. Fasting can disrupt this cycle, and my Elimination Diet 28-Day Challenge can help you determine whether you have sensitivities to these foods.
You can truly find peace and pain relief through serotonin! Now it's time to talk about how you can elevate your happiness through foods that help your body produce dopamine. 
Dopamine-Promoting foods: The Role of Tyrosine
Dopamine regulates the pleasure and reward centers of our brain, and it also plays a key role in helping us maintain focus. 
Dopamine is derived from the amino acid tyrosine, which is abundant in foods such as bananas, legumes (lentils, lima beans, white beans, soybeans, kidney beans, split peas, navy beans, black beans), pumpkin seeds, sesame seeds, hemp seeds, sweet potatoes, spinach, and spirulina. 
Omega-3 fatty acids also play an important role in helping our body get the most out of tyrosine. Flax seeds, walnuts, avocados, and olive oil are all good sources of omega-3 fatty acids, which optimize the chain of dopamine-producing reactions in the brain. 
Some foods – particularly seeds — are high in both tyrosine and omega-3 fatty acids. This means incredible bang for the bite when it comes to your mood. Hemp seeds, flax seeds, and pumpkin seeds are great for a one-two punch of tyrosine and omega-3. Always remember to eat your seeds and nuts unsalted for maximum health benefits!
Bananas, soybeans/edamame/tofu, spirulina, and pumpkin seeds are good sources of both tryptophan (serotonin) and tyrosine (dopamine). Think of these options as superfoods for your mood!
Other "Happy Chemicals": Anandamide, Curcumin, and Theobromine
Anandamide: Have you ever felt a natural high after eating chocolate? Anandamide is a unique fatty acid found in raw cacao that acts as a neurotransmitter once it is consumed. That "natural high" isn't just your imagination: Anandamide is an endocannabinoid, which means it binds to the same receptors as THC, the psychoactive compound found in cannabis. As a result, it can produce short-term feelings of euphoria. When eating raw cacao, remember to choose raw beans, nibs, or powder to maximize the natural health benefits of pure cacao. Packaged chocolate often has a lot of added sugar, and you should avoid milk chocolate altogether. 
Curcumin: Curcumin is a compound with antioxidant effects that is found in turmeric. Studies have found a link between curcumin and a lowered risk of Alzheimer's disease and depression. Turmeric and turmeric-based curcumin supplements are good sources of curcumin.
Theobromine: Do you feel a rush of mental energy similar to caffeine when you eat dark chocolate? Theobromine is the reason! This stimulant and mood-enhancer increases blood flow to the brain. Raw cacao is the best natural source of theobromine. Please be aware that theobromine is what makes chocolate extremely toxic to dogs and cats.
Exercise Boosts Your Mood Even Further
When you combine these foods with physical exercise, you will bring your sense of wellbeing to new heights. Have you ever heard of a "runner's high"? There's a scientific reason for it: Physical exercise increases the amounts of dopamine, adrenaline, and endorphins in our brains.
There are plenty more reasons why a daily exercise regimen can enhance your mood – especially when exercise is coupled with healthy sources of serotonin, dopamine, and other mood-boosting nutrients. According to the Mayo Clinic, regular exercise:
Can help you lose weight, which further improves your self-confidence and your moods

Can improve your sex life – another big confidence-booster!

Can prevent or manage the effects of heart disease, high blood pressure, and type 2 diabetes – which can reduce any anxiety or stress you feel as a result of those ailments 

Can strengthen your bones and muscles and improve your balance and coordination

Can stimulate circulation, improve sleep, support your joints, slow mental decline, and lower your risk of Alzheimer's disease
Don't worry if you don't have a gym membership or a big home-workout space. For starters, just focus on taking a long walk daily: Make sure to get at least 7,500 steps in each day. Don't forget to stretch before and after you complete any kind of physical activity! To measure your step-counting each day, a pedometer or a pedometer app on your smartphone can be a huge help.
In addition to daily walks, focus on doing strength-building exercises for at least 20 minutes a day, three times a week. These exercises don't require a bunch of space or specialized equipment, either. In fact, here are two excellent strength-building exercises that can be done in your home, in your office, in the park, or in your yard:
The Top-to-Bottom Workout (from Darebee): This one is perfect for beginners. It's a simple full-body stretching routine that works out muscles and tendons throughout your body.

The Obliterator (from Darebee): As you can tell by its name, this one is far more intense! I don't recommend it for beginners, but if you're looking to ramp up your exercise routine, The Obliterator will put your strength, balance, and stamina to the test.
Are you looking for a more structured approach to routines that will enhance your mood? Well, you're in luck! Sign up for my free Total Detox 28-Day Challenge, and you'll receive a structured, guided, month-long program that will put you on the path to your best future. During the challenge, you'll eliminate toxic ingredients from your diet, focus on whole plant-based foods, embrace the power of exercise, and reduce stress in your life.
Mindful Mood-Boosting Activities
There are also some important mood-boosting exercises that don't require much physical activity at all! These simple routines are all about taking care of you: Deep breathing exercises, meditation, reading, and spending quiet time in nature can all do the trick. The smallest changes can bring big benefits to your sense of well-being.
Self-care is a personal journey, and it requires an approach that suits you best. You might find that what works best for you comes in the form of prayer, breathing exercises, simply sitting in silence, or creative expressions such as painting or drawing. 
You might try signing up for a meditation class – or simply using a relaxation app like Insight Timer or Calm. Maybe going on a hike can be a form of walking meditation for you. Try yoga, cooking, dancing, or spending time with friends. 
Sometimes all it takes is a mindful approach to activities that are already part of your daily routine – things like washing the dishes, raking leaves, or focusing on your posture while you're seated. There are no wrong answers! Find your very own happy place, and return to that place as often as necessary when things feel stressful. 
It can be a lot of fun to explore the solutions that work best for you. The goal is to reduce stress, increase mindfulness, find gratitude, and elevate your all-around well-being. Do whatever brings you joy, creates a sense of peace, and helps drown out any negative or stressful feelings you may feel. Do things that remind you that you are incredible.
That's really important, because when you feel good about yourself, you will have more confidence to take on bigger challenges. You will have more energy to tackle your day-to-day work and responsibilities. You will be encouraged to keep up the great work!
Ready to explore more articles that can elevate your mind, your body, and your immune system? Visit the links below to learn what whole, plant-based foods can do for you.