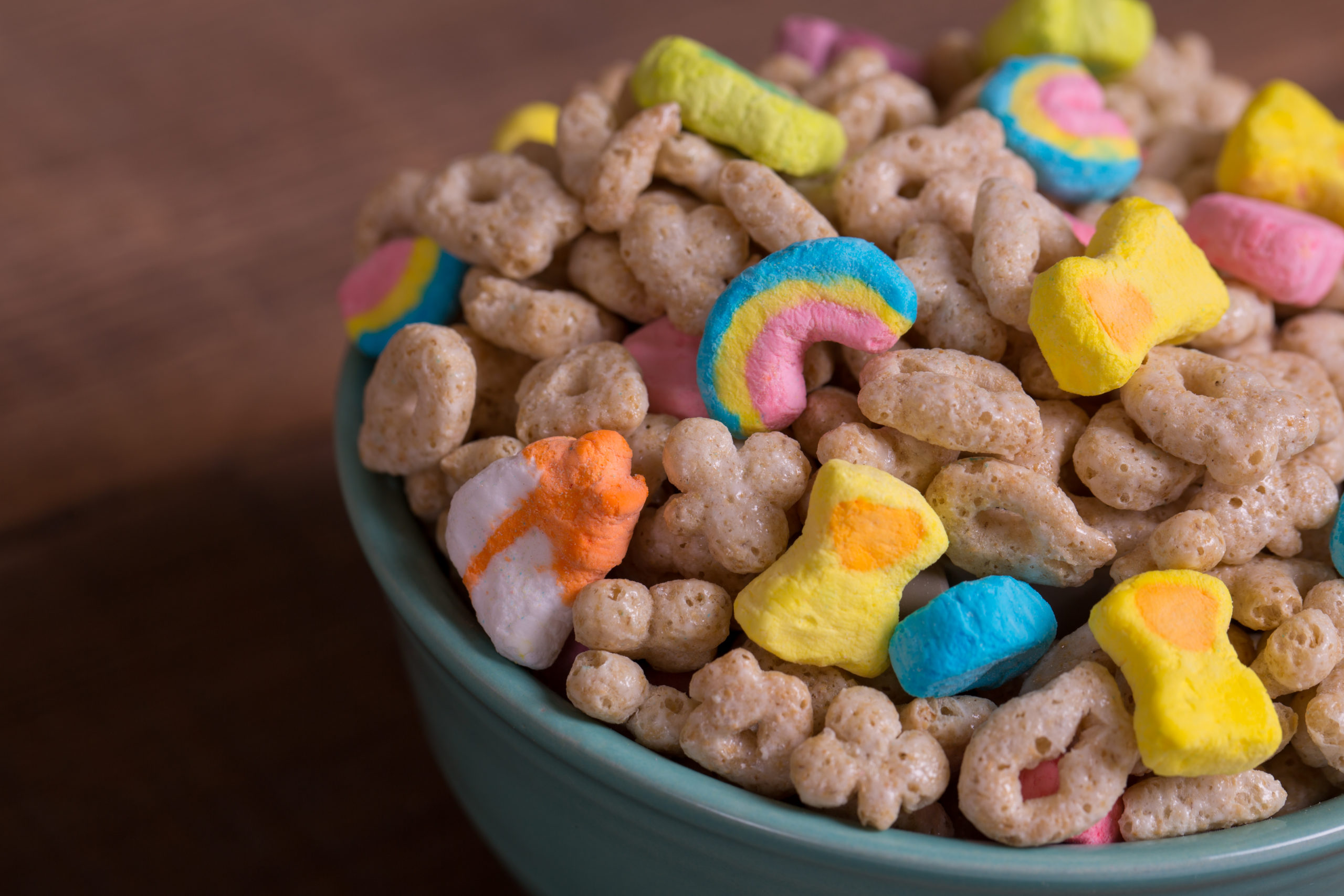 Get the Most Bang From Every Bite by Eliminating These Harmful Foods
In the materials you'll find on this website, you'll notice I write a lot about getting the most bang from every bite. But what do I mean by "bang"?
For one thing, "bang" means seeking out nutrient-dense foods: Whole, natural foods that provide more of what your body needs and less of what it doesn't. It means flooding your body, systems, organs, and cells with as many nutrients as possible throughout the day. Making the best dietary choices with each bite. Choosing health. 
But that's just half of the "bang" equation. It's also important to actively avoid foods that do harm to your body. That doesn't mean skipping meals, skipping snacks, or even skipping calories. Your body needs to feel full in order to keep unhealthy food cravings at bay. Instead, it's about making the most of your daily allotment of calories by resisting the urge to eat that giant cookie or frozen pizza — and instead eating nutrient-rich, high-fiber foods like beans, grains, potatoes, and hearty vegetables. 
Here's an easy way to think about that process.
Pretend your daily allowance of calories is a bank account – one that gets replenished every day. Every day, you wake up with a fresh balance of up to 2,500 calories if you're an active adult man and up to 2,000 calories if you're an active adult woman. You don't want to go over your daily spending limit, but that's just half the battle. Just like your actual budget, you want to make sure your money is spent on necessities, not a bunch of junk you can't use. 
So if you have 300-400 calories to "spend" on breakfast, the wise choice is to go for a bowl of steel-cut oatmeal with fresh berries instead of a sugar-loaded coffee drink and a pastry. If you have 500-700 calories to "spend" on lunch, a veggie stir fry with brown rice and a cup of healthy soup is a smarter choice than a slice of pizza or a burger. It's all about making an investment in nutritious food that will enrich and fortify your body instead of harmful, calorie-dense foods that will blow through your budget in a single meal – and put your health at risk.
So let's start putting that plan into action.
I've written a lot about the benefits of a rainbow diet and the different nutrients provided by healthy foods. In this post, I'm going in on the opposite end of the food spectrum: The food additives and ingredients you should avoid. Some stores, such as organic groceries and Whole Foods Market, actively curate their product offerings to ensure some harmful ingredients are nowhere to be found.
If you keep the whole foods, plant-based mantra in mind, it should be very easy to steer clear of these additives. They all come from processing, manufacturing, added ingredients, and other man-made influences — not mother nature. The more your diet comes directly from the earth, the less you'll need to worry about toxic ingredients. If packaged foods are part of your nutritional universe, be sure to read my post on how to decode food labels to guide your healthy shopping decisions.
One last note before we dive in: In addition to the toxic ingredients I'll cover in this post, you'll also need to be aware of the pesticides, hormones, antibiotics, and harmful additives that are often part of animal products and produce. That's an important topic in itself — and another reason to seek out organic produce and meats — and I will address it in a separate post. 
Added sugars
We're not talking about naturally occurring sugars, such as the ones in a piece of citrus fruit or a banana. We're talking about added, refined and concentrated sugars, which have all been linked to obesity, diabetes, cardiovascular diseases and dental disease. They should be kept to a minimum in your diet – that means no more than two tablespoons per day for most people. To put that into perspective, a single can of soda or a fancy coffee drink often contains twice that amount of sugar. A bowl of cereal, a single toaster pastry, or four pieces of toast is enough to blow through your daily sugar allotment before you even leave the house. 
You should also be aware of sugar in disguise. When you examine the ingredient label and you see sugar, brown sugar, corn syrup, rice syrup, maple syrup, molasses, honey, malted barley, and barley malt as one of the top five ingredients on the food label, that is way too much. You should also be on the lookout for any word that ends in "-ose" (fructose, dextrose, glucose, sucrose, lactose, and maltose). Tip: It's much better to eat your fruit than to drink it in juice form. The fiber in whole fruit stabilizes your blood sugar by slowing sugar's entry into your blood stream. 
Artificial sweeteners
Artificial sweeteners are just that: Artificial. They are made in a lab, and they provide no nutritional value to your body. While more research needs to be conducted, some findings indicate that artificial sweeteners consumed in large amounts may be linked to cancer and tumors. There is also evidence that many artificial sweeteners contribute to diabetes, metabolic syndrome and weight gain – even though they are prevalent in "diet" sodas and "sugar-free" foods. 
Again, there is more research to be done on the health effects of artificial sweeteners, but there have been enough red flags to cause concern about including them in your diet. Ultimately, artificial sweeteners fail the mantra test and the Great Grandmother Test. It's best to avoid ingredients that end in "-ol" (sorbitol and maltitol), as well as common artificial sweeteners such as aspartame, saccharin and sucralose.
Saturated fats
As I explained in my post about decoding food labels, certain fats are far more harmful than others. Saturated fats are the ones that turn solid at room temperature. These artery-clogging fats raise your low-density lipoprotein (LDL) levels — also known as bad cholesterol — and put you at increased risk of heart disease, stroke and obesity. Not only do they cause blockages in your heart arteries, they travel through your blood to all parts of your body — your brain, your prostate, your ovaries — and can cause long-lasting damage. Research suggests there is a link between dietary fat and conditions such as dementia and erectile dysfunction, as fats may clog and cause damage to the tiny vessels in these areas. 
As a result, saturated fats are one of the first things you want to cut out of your diet. You'll want to avoid saturated animal fats (butter, lard, chicken fat), saturated vegetable fats (coconut oil, cocoa butter, palm oil, palm kernel oil), and man-made saturated fats such as hydrogenated and partially hydrogenated oils (margarine, shortening). Polyunsaturated fats (safflower, soybean, corn, and sesame oil) and monounsaturated fats (olive and canola oil) are far less harmful, but they are still dense with calories — around 120 calories per tablespoon. "Healthy fat" or not, they still contribute to weight gain. Even if the fat content of a packaged food comes from polyunsaturated or monounsaturated fats, make sure the percentage of calories from fat is 20 percent or less.
Hydrogenated oils and partially hydrogenated oils
Hydrogenated and partially hydrogenated oils — which are often used in margarine and butter substitutes, fried foods, packaged baked goods and snacks, and vegetable shortening – are essentially high cholesterol and trans fats in a bottle. They have also been linked to diabetes, heart disease, stroke, and other chronic conditions. 
There's a reason why these oils have been officially deemed unsafe by the FDA: They pose a double threat to your health. Not only do they raise the levels of low-density lipoprotein (LDL) cholesterol in your body – the "bad cholesterol" that clogs your arteries and increases your risk of heart disease and stroke – but they also lower the levels of high-density cholesterol (HDL) in your body. HDL is "good cholesterol" that helps lessen the harmful effects of bad cholesterol in your system.
Nitrates and nitrites
Like sugar, nitrates and nitrites occur naturally in many foods, including root vegetables and meats. But like sugar, what you want to avoid are added nitrates and nitrites. Nitrates and nitrites are common preservatives found in popular everyday options such as processed lunch meats, including packaged deli meats, hot dogs, bacon, sausage, and ham. If that package of processed meat says "smoked" or "cured," odds are it contains nitrates.
Nitrates and nitrites aren't always harmful themselves, but their interactions inside the human body can convert them into nitrosamines, which can have several dangerous effects. While research is preliminary and results are not consistent, some research links nitrates, nitrites and nitrosamines to certain cancers. Even in low doses, nitrosamines have been linked to obesity, diabetes and insulin resistance, fatty liver disease, damaged DNA and cells, and Parkinson's disease. 
Refined and enriched flour and grains
When consumed in moderation, whole, natural and unprocessed grains offer excellent health benefits. They're loaded with fiber and nutrients that fight against obesity, heart disease, diabetes, cancer, and stroke. 
However, refined and enriched flour and grains lack a lot of this nutritional value. If the ingredients on that loaf of bread or package of oatmeal lists refined flour, enriched wheat flour, wheat flour, unbleached flour, or unbromated flour, what it really contains is heavily processed grains that lack vital nutrients. Instead, look for options that use the precise words whole wheat, stone-ground, cracked, and rolled.  
Artificial food coloring
When you're eating the rainbow, make sure you're focusing on natural colors. Artificial colors are used in a wide variety of processed snacks and foods, and some artificial dyes have been linked to a heightened risk of cancer, hyperactivity and allergic reactions.

If this list seems complex and overwhelming to you, there is an easy way to ensure that you are avoiding all the harmful elements I've just mentioned. It all comes back to our mantra for healthy eating: When you make whole, plant-based foods the centerpiece of your diet, you'll be able to avoid all these unnatural additives and ingredients automatically. The further you move away from the foods provided by nature and the garden, the more you move closer to disease.