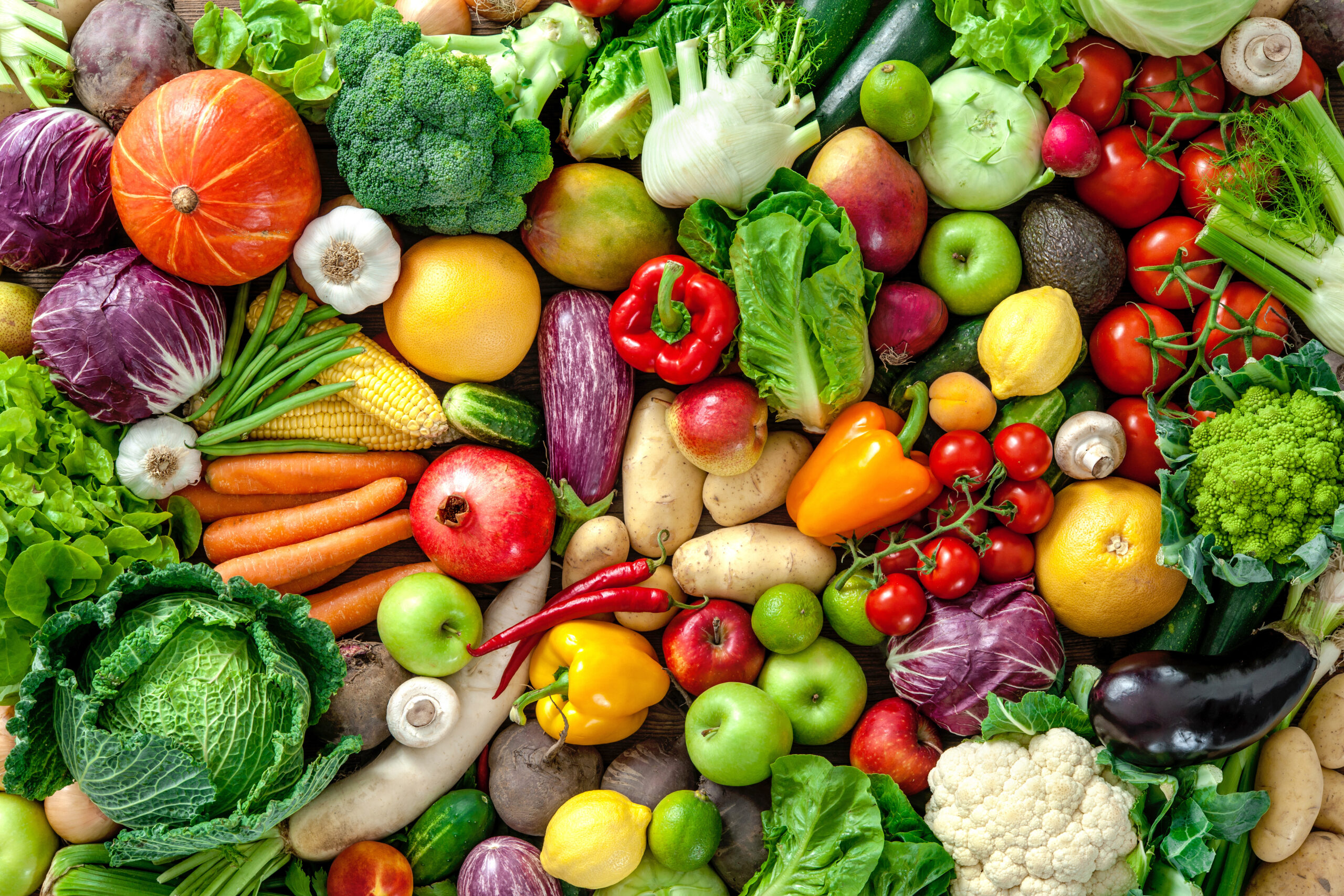 How the Colors of Fruits and Vegetables Benefit Your Health
You may have noticed that in many of my educational materials, I stress the importance of eating a colorful array of plant-based foods daily. One of my most popular 28-day challenges is all about "Eating the Rainbow," where we focus on eating a multicolor palette of fruits, vegetables, and legumes. Eating the rainbow has benefits well beyond creating a beautiful plate.
In a way, every color you see in the produce section is nature's way of providing a food label. The orange hue of a sweet potato, the light green of a clove of garlic, and the deep purple of a plum are all clues to the nutrients inside. And by eating a spectrum of differently colored natural foods, you'll make the most out of every bite by providing your body with a variety of nutrients.
So, you may be thinking, what does each color of the rainbow mean in terms of nutrients? If you're feeling a certain way, are there certain colors that can help? How do you "decode" nature's food labels? 
You're in the right place to get answers to those questions, because that's what this page is all about. So let's dive right in and decipher each color of the rainbow!
Green – Spinach, kale, collards, avocados, broccoli, green tea, olives 
The green part of the spectrum is home to many of the world's healthiest foods, including avocados, kale, spinach, swiss chard, and collard greens. In general, the darker the green, the more nutrient-rich the food will be.
Most green fruits and vegetables – including broccoli, brussels sprouts, asparagus, and cabbage — are chock full of antioxidants that detoxify our bodies. Dark leafy greens such as kale and spinach include a wide variety of nutrients, including folate, a B vitamin that is an important part of your DNA and cellular health, and omega-3 fatty acids that promote a healthy heart. 
These mighty greens are also a great source of fiber, carotenoids, calcium, vitamin A, vitamin C, vitamin K, iron, magnesium, and zinc. They help boost our immune systems and protect against certain types of cancer, type 2 diabetes and heart disease.
In fact, the health benefits of greens are so varied and powerful that they probably deserve an article all to themselves. Here are a few superstars on "team green":
Green tea

is a wonderful source of

catechins

that have been proven to reduce the risk of breast cancer.
Avocados

are loaded with fiber, folate, vitamin B, vitamin C, vitamin E, and vitamin K, and they have more potassium than bananas. 
Avocados, lettuce,

and

olive oil

contain

phytosterols

that help reduce your cholesterol levels. 
Brown – Whole grains, legumes, seeds, nuts, mushrooms
Just like the super-team of green foods, natural brown foods have an impressive range of health benefits. Whole grains and legumes are rich in fiber, which does a whole lot more than keep you "regular." Fiber also plays an important role in regulating blood sugar, lowering cholesterol, and reducing the risk of heart disease, diabetes, and some types of cancer.
Mushrooms are also high in fiber, and they're even effective in treating certain forms of cancer. Mushrooms are also great sources of vitamin C, iron, and the antioxidant selenium — all of which have immunity-boosting properties. 
As I mentioned in my guide to healthy snacking, nuts and seeds can be wonderful sources of healthy omega-3 fats – but try to stick to a half a handful per day. And make sure they're unroasted and unsalted to maximize their health benefits. 
Red: Tomatoes, pomegranate, goji berries, red peppers, watermelon, guava
The majority of red fruits and vegetables are rich in lycopene, a mighty antioxidant that fights against damage caused by free radicals in the body. As a result, lycopene promotes cellular health and has also been linked to a reduced risk of heart disease and some forms of cancer.
Tomatoes are particularly rich in lycopene, as are guavas and watermelon. Smashed and cooked tomatoes, like the ones you'd eat in salsa, sauces and tomato paste, are an even better source of lycopene. Cooking tomatoes makes the structure of the lycopene molecule even more usable by the human body. 
There are a couple of red whole foods that do not contain lycopene: Strawberries and cherries. However, strawberries, cherries, and raspberries contain healthy anthocyanins, which are antioxidants that promote cellular and heart health.
Orange: Carrots, sweet potatoes, yams, mangoes, pumpkins  
Most orange fruits and vegetables are packed with beta-carotene, which is converted to vitamin A by the body to provide a broad range of health benefits. These foods have been linked to a reduced risk of skin cancer and heart disease, as well as benefits to your immune system.
That old wives' tale about carrots being good for your eyesight? It is actually rooted in scientific truth: Vitamin A is vital for the health of your corneas, as well as the proper functioning of your mucous membranes. (Mucous membranes may seem gross, but they play a very important role in your body's immune system!)  
Other orange fruits, such as oranges, tangerines, peaches, and nectarines, are loaded with bioflavonoids  and vitamin C. In addition to providing vital benefits to your immune system, these orange foods help reduce the risk of heart disease and cancer, nurture and repair your body tissues, heal wounds, keep your bones and teeth healthy, and help your body absorb iron.
Yellow: Bananas, Yukon Gold potatoes, ginger, pineapples, lemons, summer squash
Yellow foods are beneficial because they contain compounds that have anticancer and anti-inflammatory effects. They also can help protect the brain, heart, eyes, and skin. 
Lutein and zeaxanthin are carotenoids found in yellow foods that help promote eye health, skin health, and fighting free radicals that can do damage to your body. Summer squash is a particularly strong source of lutein and zeaxanthin.
Some yellow foods, such as bananas and Yukon Gold potatoes, are starchy. That means they should only be eaten in a mixed meal to properly manage blood sugar responses. It's best to eat these starchy foods alongside high-quality protein or healthy fats to further regulate blood sugar.
For example, you can mix a banana into your morning oatmeal or protein smoothie or eat one with an ounce of walnuts as a snack. Yukon Gold potatoes can be added to stews, stir-fries, or eaten as part of a balanced meal. 
Not all yellow foods are starchy! Yellow fruits include Golden Delicious apples, Asian pears, lemons, pineapple, and starfruit. Pineapple is particularly high in the enzyme bromelain, which can be helpful in breaking down foods during digestion. Lemons are a wonderful addition to water to give you more bioflavonoids. 
Yellow vegetables include yellow bell peppers and potatoes. Ginger is also included in the yellow category. Ginger contains many anti-inflammatory compounds and antioxidants that have anti-nausea and digestive properties, and ginger also helps regulate blood sugar and alleviate menstrual cramps.
Blue and Purple: Berries, grapes, plums, figs, purple cauliflower, purple cabbage
When you see fruits and vegetables that are a beautiful shade of blue or purple, that's nature's way of telling you that they're full of anthocyanins and resveratrol. 
Anthocyanins are antioxidants that have been associated with brain health, cardiovascular benefits, anti-inflammatory properties, and lessening the risk of certain types of cancer.
Resveratrol is an antioxidant that helps detoxify and protect our bodies against free radicals. It also has anti-inflammatory effects, can help regulate blood sugar, and can be healthy for your cardiovascular system.   
In the grocery store, you may want to pick out cauliflower, cabbage, potatoes, kale, and carrots with a purple hue instead of the "normal" white, green or orange varieties. That deep blue or purple color often means that they have even a wider range of nutrients.
White and light green: Garlic, onions, asparagus, chives
Garlic, onions, asparagus, and chives don't just have a powerful flavor. They also have  powerful effects on your immune system. These foods are rich in allyl sulfides that have been shown to reduce high blood pressure, lessen the risk of cardiovascular disease, and help prevent certain types of cancer.
Just like tomatoes, garlic and onions are actually more effective with a little bit of prep work. The powers of allyl sulfides are heightened when you chop garlic and onions first, then let them sit for 10 to 20 minutes prior to cooking them. 
Now that you know about the benefits of each color in the rainbow, it's time to put their powers into action.
Sign up for my 28-day "Eat the Rainbow" challenge, and you'll receive my support, encouragement, and a few surprises in your inbox each and every day!