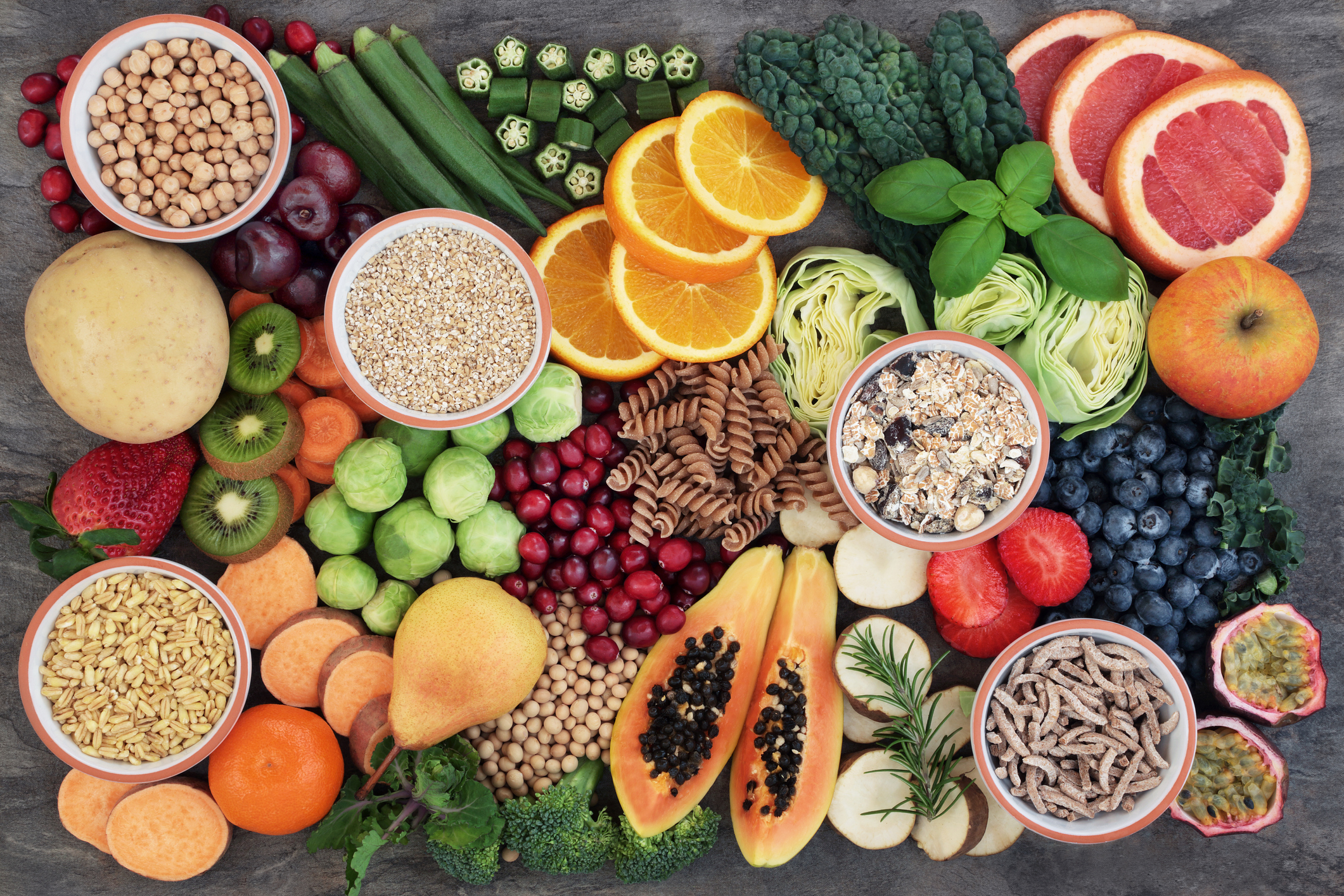 "Whole Foods, Plant-Based" Won't Let You Down
The journey to a happier life through a healthy diet begins with motivation and education. If you're reading this, you're already showing signs of motivation — and that's a great start, because motivation can't be taught!
That brings us to the education part of the equation. Educating yourself with good nutritional information may seem quite straight-forward, but it can be difficult in this non-stop information age. The world of nutrition is a complex and confusing place. 
One week, you might read that wine, coffee, or chocolate is good for you. The next, you might read that they're all worse for you than anyone thought. Every day, there seems to be another trendy food or fad diet on the scene, whether it's jackfruit or the paleo diet or intermittent fasting. 
It's enough to make anyone's head spin, and it makes it difficult to even know where to start. The more you read about proper eating habits, the more confused you may become. I'm here to fix that.
If you are like many people I've had the pleasure of working with in my community programs, you may have been searching for viable answers to your nutrition and wellness questions for a long time. Maybe you already have a solid nutrition plan in place, and now you're ready to take it to another level. I'm happy to say that your search has ended! I will provide you with the information you need to reach your dietary goals — and the support to stay on top of them. 
Take a deep breath, press the reset button, and begin your educational journey with a fresh mind.
I'm here to bring clarity to the process and cut through all the noise. You won't find any fad diets here. My expert advice is based on scientifically proven dietary facts. On these pages, you'll find fundamental, evidence-based nutritional guidance with health benefits that last a lifetime. 
Once you master these concepts, you'll have all the tools you need to make positive, lasting changes to your health and happiness. I know as well as anyone that the road isn't always easy — it can be frustrating, and it often feels like a start-and-stop battle. But if you start to stray off course, you can always return to these touchstones time and time again. 
Underneath all the complexity in the world of nutrition is a simple mantra that will keep you on the path to your best self. If you keep these four words in mind, you'll stay on your path to your healthiest, happiest future.
"Whole foods, plant-based": This mantra goes a very long way
In all the classroom and community work I've led over the years, "Whole foods, plant-based" has become our mantra. It's a simple mantra, but it is incredibly powerful and effective when you put it into action. It has helped so many people rise to the challenge of eating to live. It can help you too.
Whole foods, plant-based. We repeat those words over and over again. We use them as a lens to assess our dietary choices every day, to plan every meal, and get the most bang from every bite. We use them as a touchstone to keep us centered and focused on our lifelong journey. 
There's a reason why our mantra focuses on those simple words. When you make whole foods and a colorful variety of plants the cornerstones of your diet, it is enough to transform your wellbeing for the better. 
So I invite you — and encourage you — to embrace and recite that mantra: Whole foods, plant-based. Whole foods, plant-based. Say that thing!
Now that those words are alive and active in your mind, let's go a step further. Let's talk about how embracing a whole foods, plant-based diet will optimize your nutrition.
Whole foods
When I say "whole foods," I'm talking about natural foods in their whole, purest, unprocessed form. Eat foods made by nature — not by men, machines or manufacturing companies. Whole foods are those that can be found on a farm or in one's natural environment. We're talking about food that grows on trees, bushes and vines, and we're also talking about animal products. If it grows, walks, flies, or swims, it qualifies as a whole food. 
The healthiest options are foods that can be prepared from scratch in a home kitchen. Use this as your test: Can you prepare these foods at home?  That rules out convenience food, junk food and processed foods — including soda and diet soda, sugar and other non-foods. You should also limit alcohol consumption, although the occasional glass of red wine is OK.
Many of my students use what I call The Great Grandmother Test: Would your great grandmother recognize and easily work with this food in her kitchen? Is it something she would've prepared at home? Instant potatoes, processed fast food burgers, boxed mac and cheese, frozen dinners, boxed cereals, cereal bars, candy bars, pizza rolls, and fruit roll-ups don't grow on trees or spring from natural fountains, and your grandmother doesn't know how to make soda in her kitchen.
Plant-based
When I say "plant-based," the point is not necessarily to become vegan or vegetarian, but to eat a large amount of produce throughout the day. When you consume a wide variety of plants daily, you'll fortify your body with a range of important nutrients. 
Nature has color-coded fruits, vegetables and legumes to communicate the benefits they bring to our health. That's why it's important to include a wide array of colorful plants in your diet: Each color in the rainbow of plants signifies a different combination of nutrients that nourish and heal different parts of the body — protecting and repairing your body, systems, organs, cells, and even your DNA.
Build each meal around a wide assortment of green and colorful vegetables, colorful fruit, whole grains (not just whole wheat), legumes, and just a few nuts and seeds (unroasted and unsalted). When you focus on getting more plants into your diet, you'll make each bite count and flood your body with nature's medicine.
Whole grains:

You should look for whole grains that are minimally processed, such as brown rice, rye, barley, bulgur, buckwheat, quinoa, oats, and whole wheat. Consume breads, cereals and pastas sparingly. Avoid breads made from enriched flour, and only consume pastas made from whole grains, such as brown rice, spelt, and whole wheat pasta. Avoid pasta with semolina in the ingredient list.

Low-sodium breads and cereals:

When selecting breads and cereals, look for those with low sodium. That means the milligrams of sodium should be less than or equal to the number of calories. There should also be NO added sweetener in the first 3-5 ingredients. The very first ingredient should be a whole grain.

Beans, peas and lentils:

Beans, peas and lentils are tremendous sources of protein — and a whole lot more.

Diabetics can benefit greatly from beans, as beans for dinner and/or breakfast will

help regulate your blood sugar all day long

. Men who consume beans three times per week are also

less likely to have heart disease

.

If you choose to eat meat, make meat the condiment or side. The serving size should be about the size of a deck of cards. And when choosing meats, make sure to choose high-quality lean organic meats. Choose quality over size. 
If you eliminate meat from your diet, stay away from overly processed fake vegan meat substitutes. They are often laden with sodium, soy isolates and other unnatural and unhealthy ingredients. Also watch out for carbohydrates masquerading as a substitute for protein. 
For example, jackfruit is not a quality protein source. Over 90% of its calories come from carbohydrates, and one cup of jackfruit contains 40 grams of carbs and only 3 grams of protein. A sandwich made from jackfruit is like eating bread on bread on bread!
The additional power of the "whole foods, plant-based" mantra
The beauty of the mantra is that by embracing these simple words, you will automatically set yourself up for success with healthy fats and rich nutrients. Here's what I mean.
Healthy fats
Yes, healthy fats are a real thing! Omega-3 fats help lower cholesterol, reduce inflammation and provide  healthy benefits to your brain, eyes and nervous system. Monounsaturated fats increase high-density lipoprotein (HDL) — that's "good" cholesterol — in your body. And by keeping our mantra in mind, you'll gravitate toward these healthy fats. 
Whole foods and plants will keep your heart and your brain supplied with healthy fats. The best sources for these healthy fats are whole-plant foods such as avocados, nuts and seeds — including walnuts, almonds, sunflower seeds, pumpkin seeds, flax seeds, and chia seeds. 
But healthy fats are still fats. Go light and limit your portion to just half a handful per day. Nuts should be eaten as a supplement or a light snack, not a meal. Just as important, make sure nuts and seeds are always unroasted and unsalted to promote heart protection and cancer prevention.
This surprises a lot of people, but you need to be careful about oils derived from otherwise healthy whole-plant foods. For example, let's talk about avocado oil, olive oil and coconut oil. When you throw the fruit of the plant away, you're left with only the fat — none of the proteins, carbs or fiber that make their natural forms so nutritious. Plant oils may be better for you than animal-based fats, but you should consume them minimally for weight maintenance and optimal health. 
Long story short: Just because these plant oils are better for you than animal fat, it doesn't mean you should drench your food with them. Use plant oils sparingly! 
If you do choose to eat meat, there are healthy fats to target on your plate. Look to salmon, trout and halibut as great sources of healthy omega-3 fatty acids. If you eliminate meat from your diet, walnuts, flax seeds, and chia seeds are all excellent sources of omega-3.
Nutrient dense
You've learned how focusing on whole foods and plants can help you keep your fat consumption healthy and optimal. But the magic of the "whole foods, plant-based" mantra doesn't end there.
When you consume whole, real, plant-based foods, your food automatically becomes micro-nutrient dense as well. You receive more of what you do need: Vitamins, minerals, antioxidants and phytonutrients. You also receive less of what you don't need: Excess calories, saturated fats and cholesterol. Your food becomes your medicine, providing the power to help you prevent and reverse disease, manage weight, feel more vibrant and live a longer, healthier life. 
Get more bang from every bite
Think of it this way: The average active adult man can consume up to 2,500 calories per day, and the average active adult woman can consume up to 2,000. How do you want to use your allotment? How can you get the most bang from every bite?
Don't waste your calories on empty and disease-promoting foods like candy, pizza, soda, beef and veggie burgers and deep-fried whatever. They'll provide little to no nutritional value while eating up your daily caloric budget. To get the most bang from every bite, replace those non-foods with black beans, collard greens, sweet potatoes, cauliflower, blueberries, pomegranates — REAL foods that are packed with vitamins, minerals, antioxidants, phytonutrients and FIBER, which truly is nature's medicine.
Our simple mantra will ensure that every bite you take will be optimal. Your food will become medicine, and you'll get less of what you don't need (excess calories, saturated fat and cholesterol) and more of what you do need (vitamins, minerals, antioxidants and phytonutrients).