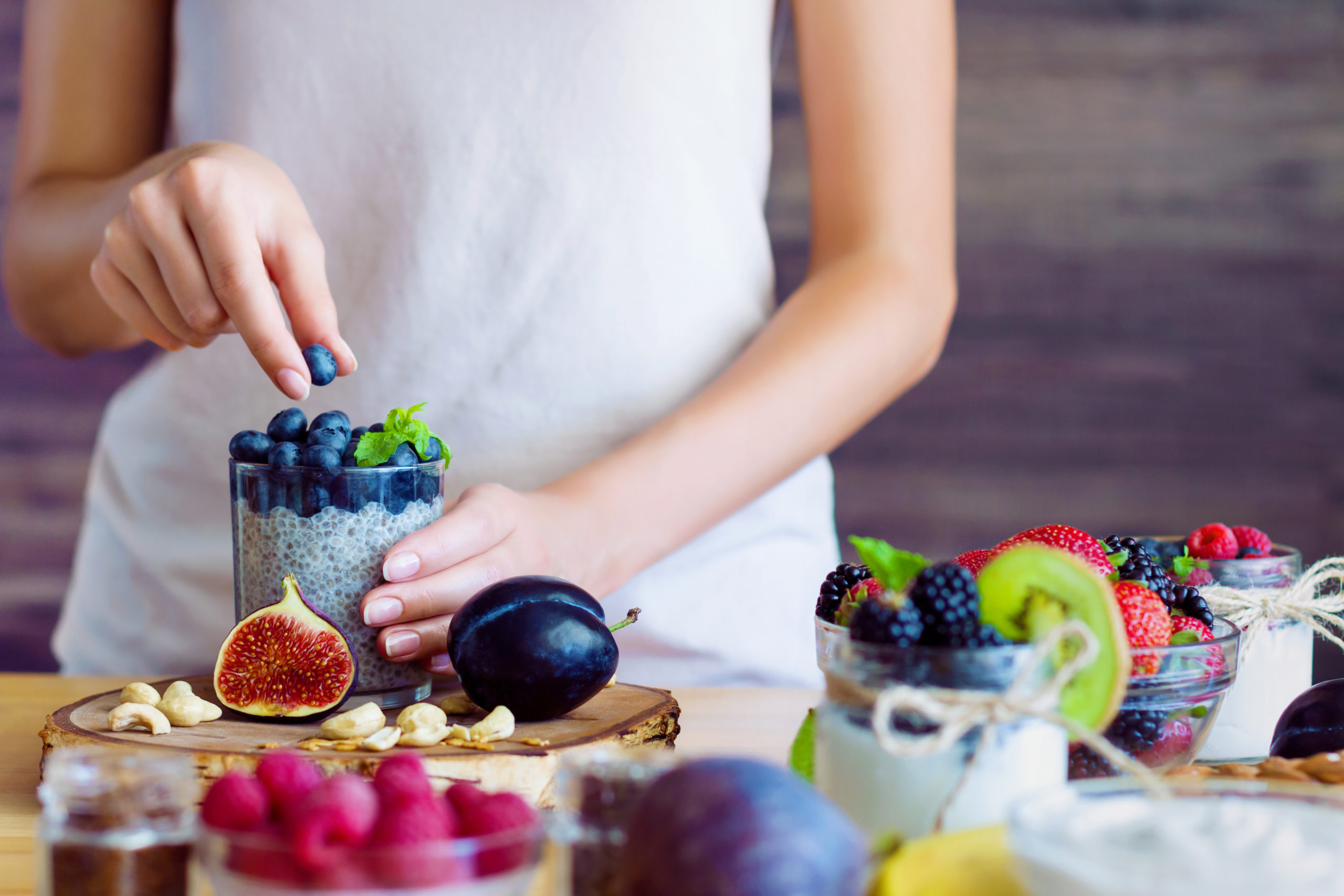 Are you a morning person? To be honest, I am not! But when I finally get going in the morning, I love what the dawn of every day represents: The ability to start fresh, a blank slate to define by my own choices and actions, and the beginning of something new and exciting.
That makes the morning a perfect time to start making healthy changes to your diet. You've probably heard "breakfast is the most important meal of the day" about a million times. The first meal of the day helps prepare your body and your mind for everything that lies ahead. You need premium fuel in your tank in order to tackle your day in the best possible way – not breakfast cereals loaded with sugar and refined grains, empty-calorie donuts and saturated-fat-heavy bacon.   
So are you ready to start every day right? The first meal of the day should be your first priority when you're making healthy changes to your diet. Here are the most important things to keep in mind when you're putting together a nutritious breakfast.
There's no such thing as "breakfast food" – just healthy and unhealthy food
Forget about categorizing what you eat into breakfast, lunch and dinner foods. Focus on flooding your body with an abundance of whole, real plant foods all day, from breakfast to lunch to dinner and all the little snacks in between. 
As you'll learn a little further down, most of the healthiest foods you can eat for breakfast are not considered "breakfast foods." And that's perfectly OK, because most traditional breakfast foods are bad for you.
The most important step you can take is to eliminate traditional breakfast foods: Pancakes, boxed cereals, butter, eggs, syrup, biscuits, juices, and bacon and sausage. And yes, you should still avoid that bacon or sausage even if it's turkey, vegan or some other "healthy" alternative. 
Avoid fatty, starchy, sugary and convenience breakfast foods. Go for high nutritional quality. Choose healthy leftovers, salads, smoothies, beans, fruit/nut bowl. Start each day with water and plants to complete your overnight "fast" and detox your body.
The first thing you should consume every morning? Start your day with a large glass of water. I like to add a teaspoon or two of lemon juice or apple cider vinegar for their cleansing and alkalizing benefits. And don't stop at breakfast: Consume water throughout the day for a clean and well-hydrated body.
Get outside the box
What do you think about when I say the word "cereal"? You're probably thinking about a box of sugary breakfast food instead of pure and natural whole grains and oats. It's a perfect example of how our food environment has changed and how the unnatural has become natural.
In my post about how to decode food labels, I provided in-depth advice about how to read the back of the package to determine exactly what you're putting in your body. And when you take a look at the ingredient list and Nutrition Facts labels for boxed breakfast cereals, you'll find that almost all of them fail the healthy food test. 
You want the calories from fat to be less than 20% of the total calories per serving, the sodium to be less than or equal to the number of calories, whole grain to be the #1 item on the ingredient list, and no sweeteners to appear in the top three to five ingredients. Good luck finding a boxed cereal that passes those criteria, because there aren't many. Almost all of them are heavily processed foods that do not resemble anything we would see in nature.
Instead of boxed cereals, look for real cereals. Steel-cut oats are the least processed form of oats, which means they retain all of the wonderful nutrients that things like instant oatmeal packets do not. I like steel-cut oatmeal with fresh berries, chopped walnuts, flaxseeds, and just a drizzle of organic maple syrup.
Better yet, get completely out of the box when it comes to your cereal and your thinking. Try something completely different for breakfast… like beans. Yes, beans!
Why beans are great for breakfast
This may surprise you, but beans are an incredible breakfast food. They will help regulate your blood sugar all day, which makes them an ideal option for anyone struggling with diabetes. They're also ideal for sustaining your energy throughout the day and helping you feel full – an important part of keeping those unhealthy snack cravings at bay.
When transitioning to a healthier diet, it is important to stay full and satiated. It will help you stay on top of your cravings and in control of your choices, and you will be more successful on your journey. When I allow myself to get too hungry, the cravings kick in with a vengeance. 
Beans don't just make you feel full. They're often higher in antioxidants than berries – especially deep, dark beans like red kidney beans and black beans – and they're cheaper too. Beans have been proven to help lower the risk of heart disease, they can help keep your weight and your cholesterol in check, and beans are classified as a "diabetes superfood" by the American Diabetes Association. Go beans!
Anyone looking to regulate their blood sugar and start their day off with more energy can consume a cup of beans (i.e. black beans, red kidney beans, adzuki beans, black lentils, or pinto beans) at breakfast. Beans are high in protein, fiber and "good" starch. Everyone can benefit from eating more beans, and the darker the better.
I prefer dried beans, but I will use canned beans when I'm tight on time. I personally choose organic beans with no salt added in tetra packs or non-aluminum cans. The main point for busy parents: Any no-salt canned beans can be a quick and easy fall-back meal for their families. When you're in a rush, what's the most nutritious and affordable option? Canned beans over brown rice instead of fast food. 
The power of healthy leftovers – and healthy morning snacks
The good thing about ignoring the title of "breakfast food" is that healthy dinner leftovers will be waiting for you every morning. The quality of nutrients, not the food category, is what counts. 
A healthy combination of protein, fiber and fat first thing in the morning helps stabilize blood sugar, boost your energy, fire up the brain, and ward off cravings. Along with black beans and red kidney beans, embrace green vegetables, salad, green smoothies, or a tofu scramble. Try adding avocado, walnuts, flaxseeds, hemp hearts, or a brown rice or green pea protein powder to your green smoothie. Spread avocado over gluten-free toast. Have tofu or tempeh for breakfast, or a cup of beans with sliced avocados and a tiny drizzle of olive or avocado oil on top.
When it comes to having a mid-morning snack, make sure your snacks are low in calories so you do not gain weight. Remember, nuts and seeds are high in calories and should only be used sparingly. Consume only half a handful of unroasted and unsalted nuts each day.
Eat small and healthy snacks, like a piece of fresh fruit, air popped popcorn, carrots, and hummus mid-morning and mid-afternoon to ward off hunger and harness the extra energy you need to get through your busy day. Drink plenty of water, avoid added sugar, and move, move, move.
What's on my breakfast plate?
My favorite breakfast consists of a large bottle of water, followed by a jumbo salad or large green smoothie packed with everything under the sun. I also like steel-cut oatmeal with fresh blueberries, chopped walnuts, a dash of flaxseeds, and just a drizzle of organic maple syrup. 
But I mix it up a lot! Breakfast in my house this morning consisted of black beans, quinoa and roasted sweet potato cubes dusted with sea salt, cinnamon and nutmeg. I often have dinner leftovers for breakfast, like a veggie bowl made with wild rice, sautéed tofu and black bean curry. Another one of my favorite veggie bowls is broccoli, sautéed seitan and wild rice. 
Wild rice is very nutritious, contains a lot of protein, is easy on the digestive system, and less likely to spike blood sugar than other kinds of rice. You can find wild rice blends in any natural foods store. 
My morning routine is to have a wholesome breakfast before 9:00 a.m., then follow it up with a light snack (i.e. hummus and cucumbers, a pint of berries, an apple and a few walnuts) around 10:30 a.m. Then, it's on to a hearty lunch, another snack around 3:30 p.m., dinner, and a small evening snack if necessary. 
By eating enough calories and nutrients throughout the day, I get out ahead of those cravings and stay in control of my eating habits. I also stay hydrated by drinking plenty of water all day long. Stay tuned to my blog to get my advice on healthy lunch options, my favorite healthy snacks and nutritious dinners that taste even better the next morning!