Lentils and Chickpea Open Face Portobello Sloppy Jane
Page title
Lentils and Chickpea Open Face Portobello Sloppy Jane
Prep and Cook Time: 1.5 hours
1 ¾ cups vegetable stock or water
1 cup beluga lentils or red lentils (well rinsed)
4 portobello mushroom
4 tbs avocado oil
1 cup spinach
2 ½ tsp salt
1 ¼ tsp black pepper
½ cup medium white or yellow onion, minced
3 cloves garlic, minced
½ cup mixed medium red or green bell pepper (diced)
1 cup (cooked lentils
15-oz can whole peel plum tomatoes
3 tbs date paste
1 tbs Worcestershire sauce (see recipe below)
1 tsp chili powder ( more if you want it spicy)
1 tsp ground cumin
1 tbs paprika
1 cup apple cider vinegar
1/3 cup nama shoyu
3 tbs fig paste
2 tsp Dijon mustard
½ tsp ground allspice
1 tsp garlic powder
1 tsp onion powder
Medium pot
Medium sauté pan
Large skillet
Mixing bowl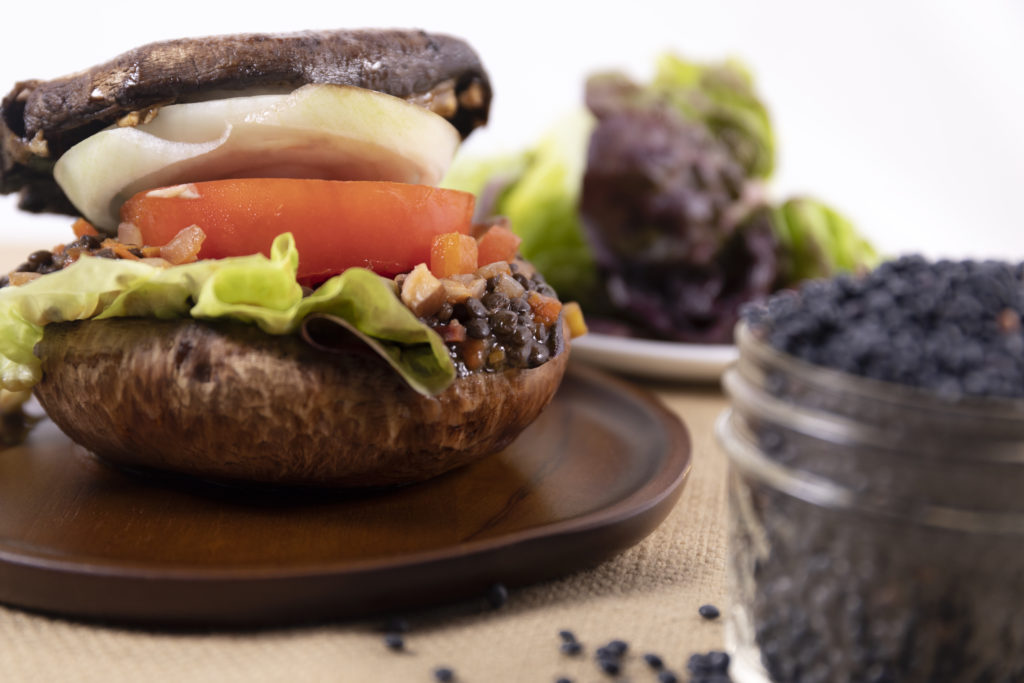 Lentils
Step 1: Place stock, lentils and a pinch of salt in a medium size pot. Bring to a boil.
Step 2: Lower heat and cook for 30 to 35 minutes
Portobello Mushroom
Step 1: Heat a medium to large sauté pan on the stove on medium heat
Step 2: Season the portobello mushroom on both sides with salt (about ½ tsp) and pepper (about ¼ tsp)
Step 3: Place the mushroom in the sauté pan and cook for 3 to 4 minute per side
Step 4: Remove from the pan and set aside
Sloppy Jane   
Step 1: Heat a large skillet over medium heat
Step 2: Once hot, add oil, onion, garlic, and bell peppers. Cook for 3 to 5 minutes, stirring as needed
Step 3: Add the cooked lentils, tomatoes, date paste, Worcestershire sauce, chili powder, cumin, and paprika. Lower heat and cook for 10 minutes
Step 4: Add salt and pepper to taste
Step 5: Lay mixture into portobello and serve. Garnish on top with baby spinach.
Worcestershire sauce recipe 
Step 1: Combine apple cider vinegar, nama shoyu, fig paste, Dijon mustard, ground allspice, garlic powder, onion powder, and a pinch of black pepper
Step 2: Mix all ingredients in a bowl and whisk until all combined