Carrot Cake with Coconut Icing
Page title
Carrot Cake with Coconut Icing
Pre and Cook Time: 1.5 hours
2 ½ cups self-rising flour
1 cup brown sugar
1 cup white sugar
2 tsp baking powder
1 tsp baking soda
2 tsp cinnamon
½ tsp ground ginger
¼ tsp nutmeg
1 tsp salt
½ cup avocado oil
1 cup applesauce
¾ cup almond milk
2 tbs vanilla extract
3 cups carrots (shredded)
½ cup pineapple
½ cup chopped walnuts
½ cup vegetable shortening (or vegan margarine)
8 oz vegan cream cheese
1 cup coconut
2 tsp lemon juice
2 cups powder sugar
Two, 8-in round cake pans
Parchment paper
Large mixing bowl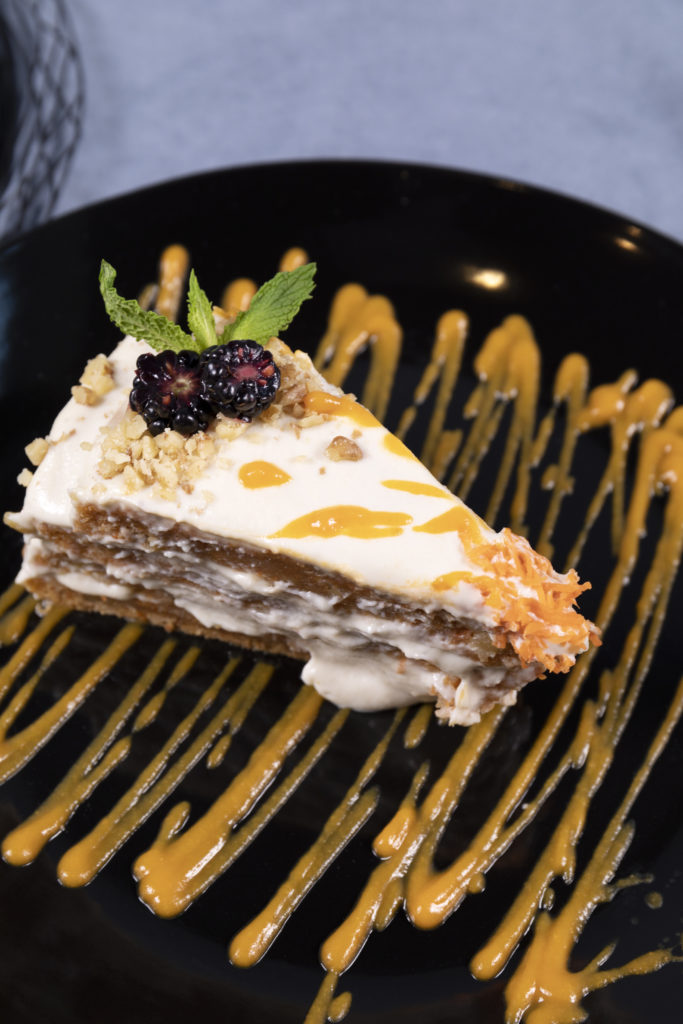 Cake:
Step 1: Preheat the oven to 350°F and prepare two, 8-inch round cake pans, lining the bottom with parchment paper and spraying well with oil
Step 2: In a large bowl, whisk together flour, brown sugar, white sugar, baking powder, baking soda, cinnamon, ginger, nutmeg and 1 tsp salt
Step 3: Pour in the canola oil, applesauce, almond milk and 1 tbs vanilla extract. Mix until combined
Step 4: Fold in the grated carrots and walnuts
Step 5: Pour the cake batter evenly between the prepared pans
Step 6: Bake for 35-45 minutes (or until a toothpick comes out clean and the tops of the cakes are set)
Step 7: Remove from the oven and allow to cool for about 20 minutes before carefully removing from the pans.
Step 8: Allow the cakes to cool completely before frosting.
Coconut Icing
Step 1: Mix vegetable shortening and vegan cream cheese until well combined.
Step 2: Mix in lemon juice, 1 tbs vanilla extract and coconut
Step 3: Gently fold in 2 cups of powder sugar