Avocado Toast & Red Bean Sausage Patty</br></br>
Page title
Avocado Toast & Red Bean Sausage Patty
2 ½ tbs olive or avocado oil
½ small onion (coarsely chopped)
3 garlic cloves (minced)
30 oz red kidney beans (drained and rinsed)
½ cup vegetable stock
2 tbs paprika
1 tbs smoked paprika
½ tsp red pepper flakes
2 tbs fresh sage
1 tbs fig or date paste
½ tsp marjoram
1 cup potato flakes
1 tsp black pepper
2 tsp salt
2 slices Ezekiel bread
2 avocados
1 tsp lemon juice
¼ tsp cayenne pepper
½ tsp onion powder
½ tsp garlic powder
Olive oil, for brushing or spraying
Medium pan
Food processor
Large bowl
Small bowl
Ice cream scoop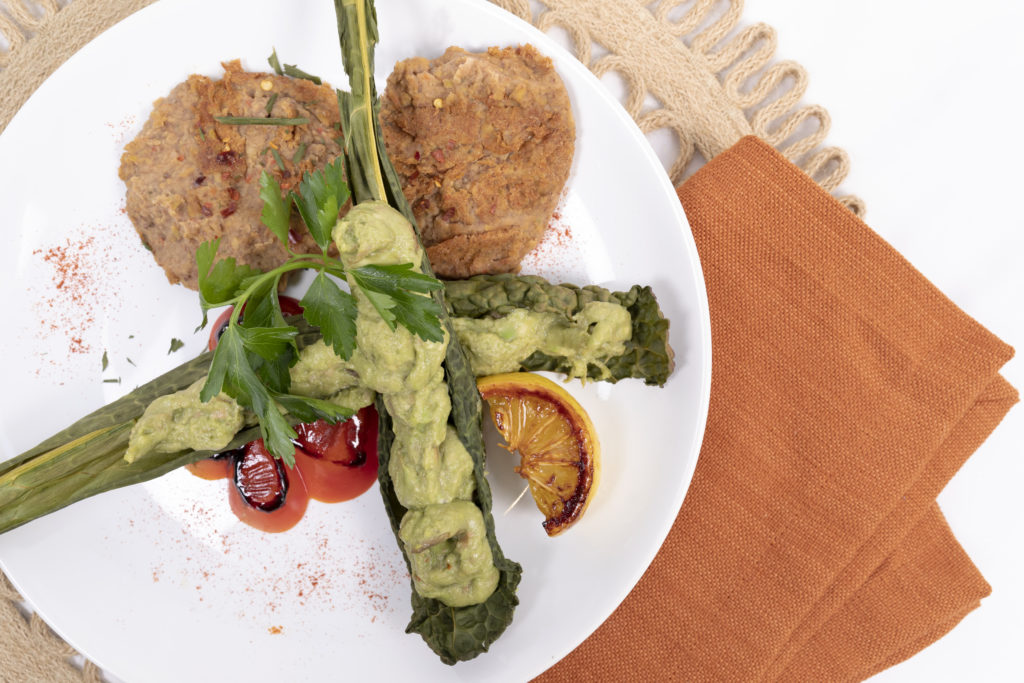 Red Bean Sausage Patty
Step 1: Heat 2 tablespoons of oil in medium pan over medium heat
Step 2: Add the onions and garlic. Sauté for 2 to 4 minutes or until they start to become soft. Turn heat off.
Step 3: Place about half of the beans in a food processor and puree. Add vegetable stock as needed to allow beans to completely puree. Remove those beans and place in a large bowl.
Step 4: Place the remaining beans in the food processor and pulse to break down the beans into small pieces, but do not completely puree. Add those beans with paprika, red pepper flakes, sage, fig paste and marjoram to the bowl. Mix all ingredients together.
Step 5: Add some potato flakes (a little at a time) to help the mixture stick together.
Step 6: Take some of the mixture in your hands and see if it sticks together by shaping a ball. If it sticks together, add salt and mix well.
Step 7: Use an ice cream scoop to scoop out 1 to 2 inch bean balls. Using your hands roll the balls in your palms like you would a meatball packing the mixture tight. Set aside in the refrigerator.
Step 8: Cook each patty for 2-3 minutes on both sides.
Avocado Toast
Step 1: Squeeze 1-1.5 avocados into a bowl.
Step 2: Add salt and pepper to taste, ½ tsp oil, 1 tsp lemon juice, cayenne, garlic powder and onion powder. Mash together to create a spread.
Step 3: Toast Ezekiel bread and spread avocado mixture on top. Serve.