Akua's Sunday Breakfast Slam with Macon, Ackee, Scramble & Biscuits
Page title
Akua's Sunday Breakfast Slam with Macon, Ackee, Scramble & Biscuits
2 cups self-rising flour
1 tbs baking powder
1 1/4 tsp salt
½ cup vegan butter cut into small dice
½ cup almond or rice milk
4 tbs avocado oil
½ cup onions

¼ cup finely chopped
¼ cup minced

¾ cup red, yellow, green bell peppers

½ cup red and green bell pepper (finely chopped)
¼ cup red, yellow or green bell peppers (mixed)

1 can ackee drain

Ackee is a yellow looking fruit indigenous to Jamaica and served for breakfast. You will not find it fresh in the United States and will only find it sold in a can.

1 tbs smoke paprika
1 tbs scallions (rough chopped)
3 tsp garlic minced
½ to 1 cup medium firm tofu
½ tsp old bay
1 tsp turmeric
½ teaspoon smoked paprika
8 ounces portobello or shiitake mushrooms (stems removed and sliced into ½ inch thick)
1 tbs tamari
2 Baking trays
Parchment paper
2 Large bowls
Rolling pin
2 Medium pans
Cookie cutter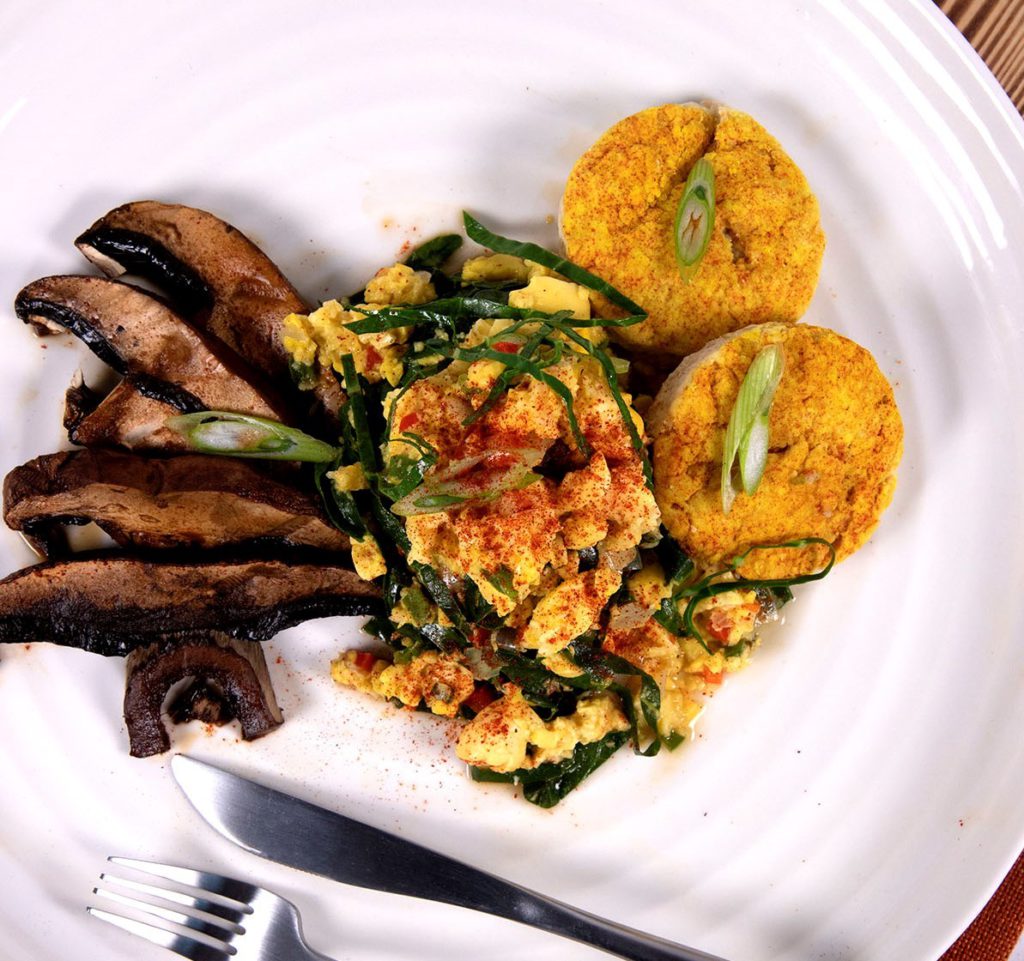 Vegan Biscuit
Step 1: Preheat the oven to 400°F
Step 2: Line a baking tray with parchment paper and set side
Step 3: In a large mixing bowl, add flour, baking powder and salt
Step 4: Add chopped butter and use your hands to mix into the dough until a crumbly thick texture is formed
Step 5: Roll out dough to about an inch thick. Use a cookie cutter to cut biscuits out
Step 6: Lay on baking tray with an inch of space between each biscuit
Step 7: Bake for 15 to 20 minutes
Ackee Scramble
Step 1: Heat avocado oil in medium size sauté pan over moderate heat
Step 2: Add onion and peppers. Cook for 2 to 3 minutes stirring occasionally
Step 3: Add the ackee to the pan. Cook for an additional 5 to 7 minutes, continuing to stir occasionally
Step 4: Add smoke paprika and scallions
Step 5: Add salt and pepper to taste. Stir ingredients together
Tofu Scramble
Step 1: Heat oil in medium sauté pan over moderate heat.
Step 2: Add garlic, onion and bell peppers. Cook for 3 to 5 minutes (until ingredients become soft), stirring occasionally
Step 3: Add tofu and scramble in the pan. Cook 5 to 7 minutes, letting all of the flavors meld together
Step 4: Add seasoning. Cook for another 2 to 3 minutes.
Mushroom Macon
Step 1: Preheat the oven to 325°F and line a baking sheet with parchment paper
Step 2: In a large bowl, add the sliced mushroom with seasonings and mix
Step 3: Bake 15 to 30 minutes